Blog
Decrease your holiday season marketing stress already in 2021
May 14, 2021 | Aija Peltola, Chris Kervinen
For most people it's the time of the year to get your very own Christmas calendar out, start writing the wishlist for Santa and blast Mariah Carey's All I want for Christmas is you like there's no tomorrow.
But there's also one line of duty which has felt a slight sweat on their forehead for some time now.
The Grinc… - I mean the Marketers – and especially marketers in big B2C companies face enormous expectations and pressure around the most important season of the year. The Big C.
In this blog we'll go through some of the biggest headaches marketers experience during the holiday season, and how to keep your New Year's resolution of less stressful year 2021.
Before jumping into the first point, let's take a moment to appreciate Google's relevant searches for "Christmas stress".
The results depict brilliantly the world of marketers around Christmas, especially the third one. It's clear that some of us are losing their faith in Santa while sitting in front of the campaign whiteboard.
Why planning the holiday season's campaigns is so difficult?
Planning and executing big campaigns is always strenuous task for any of us. There are multiple details that needs to be aligned, timed and targeted right to succeed in the harsh world of marketing. Unfortunately, the game gets even harder in the holiday season, when there's everyone else also involved and competing for the same customers, which makes the stakes that much higher (and expensive).
Let's look at some of the main reasons marketers are losing their sleep over the holidays.
Reason #1: Heavy competition
The Holidays symbolize the grand finale of the year in many ways. As in any competition, it's the homestretch that counts the most. And marketing is a marathon – you cruise through the year, constantly planning and preparing for the hardest part at the end of the track.
And no matter how early you start planning, considering all the multiple factors in play; all the different channels, creatives, products, and everything related to successful holiday season campaigns, the planning can easily lead to increased stress. This doesn't get any easier when you know vast majority of your competitors have already started their planning final sprint, too.
As Criteo is pointing out, "Focusing on retail specifically, 28% of marketers say their company starts prepping up for the holiday season in Q2, and 26% start in Q3. And 3 out of 10 start planning even sooner (up to a year in advance)."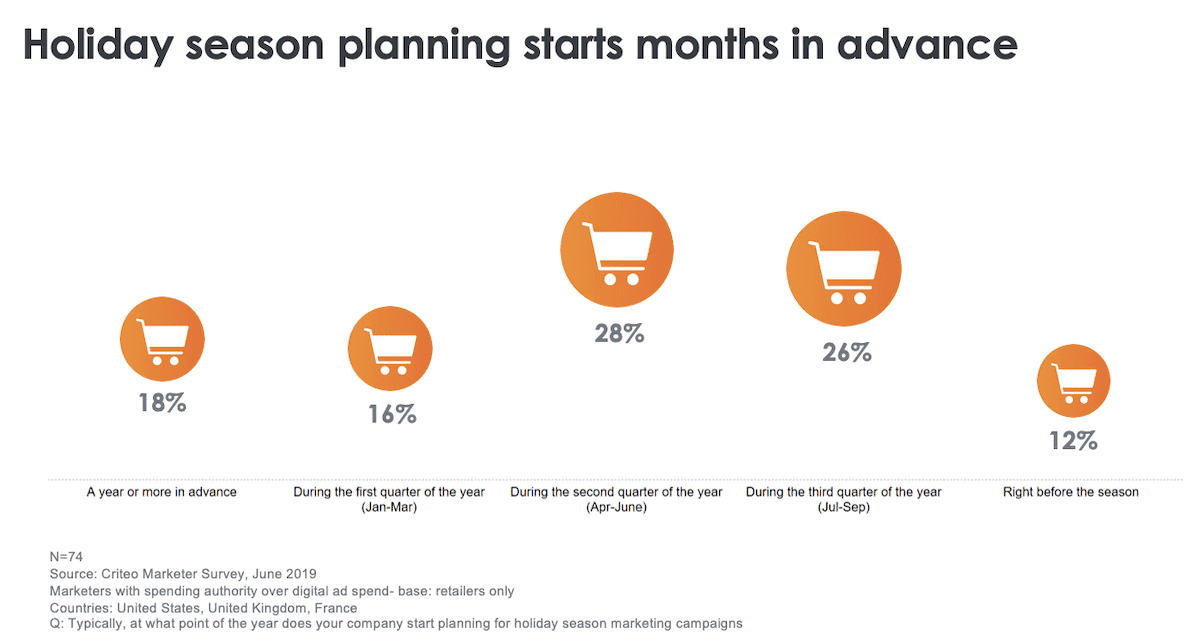 Although good planning is half the battle, there's another issue in the mix as well. As we all know, it's getting harder and harder each year to earn the attention and interest of a consumer for more than two seconds.

When the market for consumers' attention is crowded, choosing the right channels and media spends can be extremely difficult if there are no clear, data-backed insights from previous holiday season campaigns. By showing up in a wrong time on a wrong channel, you've missed two shots in one.
If you're not able to reach the shoppers in their optimal buying-window, you might have just missed them altogether. Nobody buys presents twice.
Which leads us to the second reason why marketers feel stressed during the holiday season:
Reason #2: Large budgets and small margin for error
When there's a lot of competition, there is a lot of marketing money to be spent if you want your company to stand out. The flipside is that when budgets go through the roof, even a small mistake can and will cost you a fortune.
Another graph from the Criteo article is clearly showing that most marketing budgets are getting "a little" more power during the holiday season: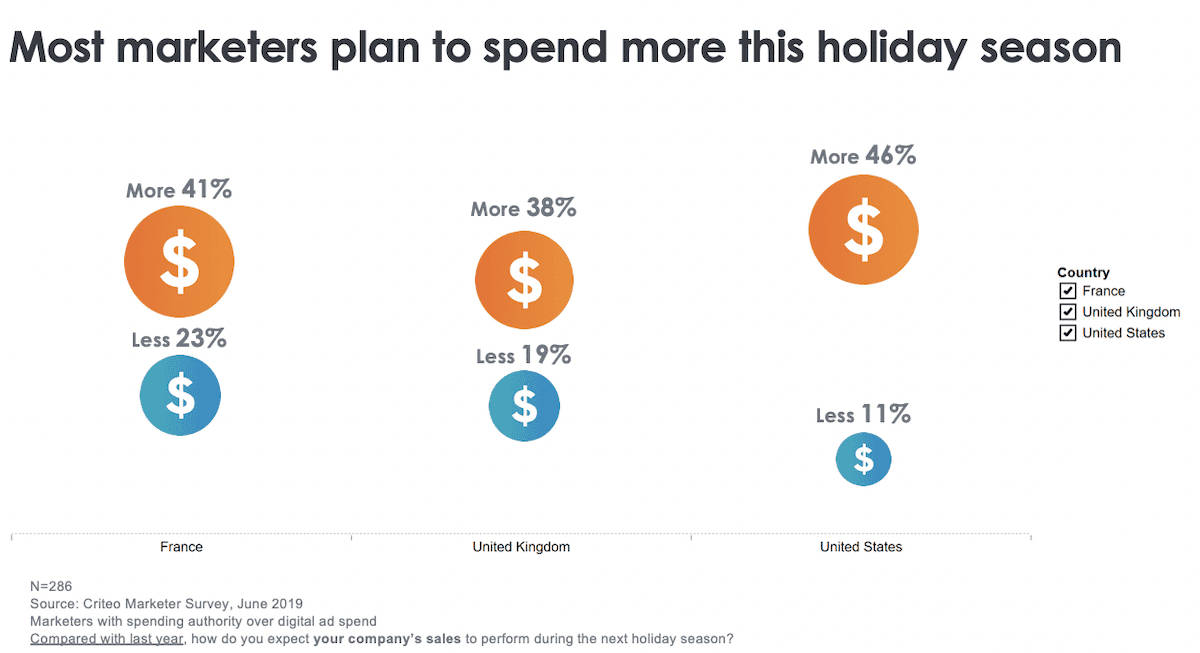 For why the budget increase is so hefty, one of the main reasons is obviously the increasing competition regarding the attention of the consumers. And when the stakes get higher, even a small mistake can and will cost heavily.
Budget allocation around Christmas is more challenging than it might seem like at first. Splitting the money between the most festive channels means understanding where different target audiences spend time during the holidays, and what's the ratio between branding and tactical activities (which will be quite different this year, according to Forbes' recent article ).
Cindy Riccio, President & Founder at CRC, Inc., states in the same article that there's two points no marketer should miss this year with their holiday season campaigns:
"The 2020 holiday season can't be business as usual. With the limited ability of people to gather together in large quantities and deciding on what to do to be safe, advertising messaging should not be tone deaf and must be in sync with social distancing."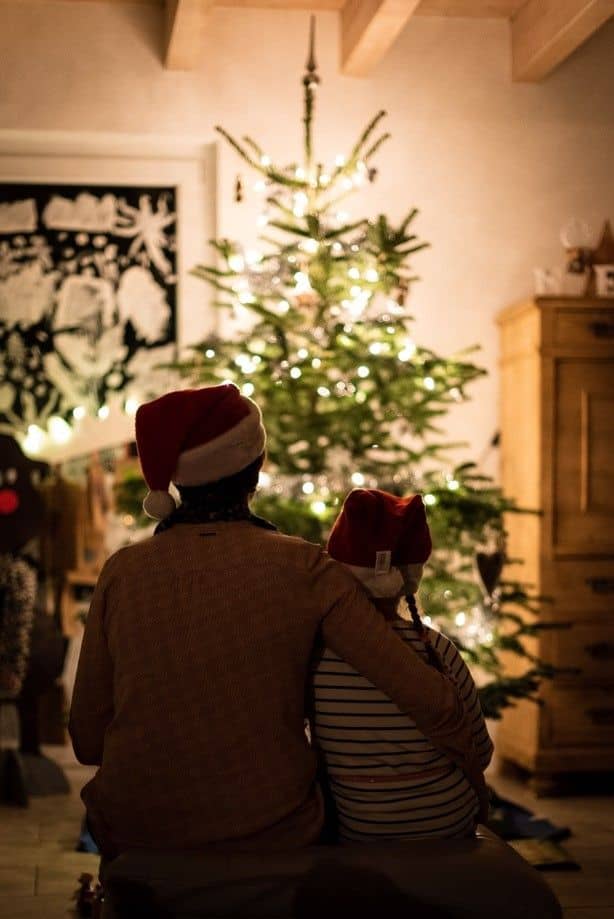 This Christmas will be heavily affected by the ongoing pandemic. Marketing campaigns that successfully tap into this unique situation will continue reaping benefits long after the holidays have ended.
"Now, more than ever, content should not be overly sales driven and focus on engagement which can go a long way in improving how people see your brand and their relationship with it."
And it's not only the company's presents that are on the line during Christmas. Santa's elves are keeping an eye on how good you've been this year as well.
Reason #3: Pressure of getting the wanted results from the campaign
What everyone truly wants for Christmas is to end the year with a high note. Not only would it "earn" us little vacation and free time with our close ones, but it also shapes both your role in the company as a growth enabler, as well as the marketing budget for 2021.
Small wonder many marketers decide to work overtime a little, pondering on those late nights how relative the term "little" can sometimes be. And how many hours reports, analyses and estimates require when done manually and ad hoc.
Unfortunately, backing up your decisions with hard data is the only way to
A) Get the required budget
B) Get some sleep at nights during the busiest time of the year
C) Upgrade your marketing budget for 2021 with undeniable stats that prove the effectiveness and ROI for the marketing investments.
Especially CMOs have exceptionally high churn rate , largely due to the ever-expanding responsibilities and expectations put onto the role. Regardless of the fairness of these assumptions, marketers have to walk a tightrope and bridge the marketing proof gap by any means necessary to keep their job.
This can lead to neglecting the original Christmas Spirit.
Reason #4: You are forgetting that Christmas is about family and rest

In all this, majority of marketers can easily forget, that Christmas should be the time you relax, spend time with your family and get ready for the next year with full energy, instead of losing your sleep year after year over marketing around Christmas.
If your stomach aches in the dinner table for any other reason than overeating, you might want to consider a New Year's resolution to re-evaluate how you spend your time at work.
Here's a couple of helpful tips towards merrier Christmas 2021:
Make a list
‍If it works for Santa, it'll work for you as well. Split the list into two columns, and list (based on past holidays) what needs to be done, work- and leisure-wise. If you're checking items off from only one column, it's time to call in the reinforcements.
Get help
‍Not in a go-to-a-shrink fashion, but more in we're-in-this-together style. Don't let the stress enter your Santa hat. Instead, recruit little helpers whenever possible. Christmas is a time of giving, and the best presents are not physical. You just have to give people the chance to participate in the tasks.
Choose quality over quantity
Whether it's presents or work, most likely prefer good quality. As for how to make the choice, don't buy presents if you're not sure what the recipient wants, likes or needs. In campaign cockpit, automate as much of the mechanic tasks as possible. Freeing up resources from laborious calculations, analyses and predictions improves the quality of your work in those areas where your skills can be utilized the best. After all, you're not a machine.
Want to try out stress free Christmas 2021? Let Sellforte take care of the not nice-list next year!
Sellforte's Marketing Optimization Platform provides accurate, actionable and agile insights about your marketing & promotion effectiveness. The platform works as a one-stop-shop for a marketing executive, who is looking to shed a light in their marketing mix and promotions, to make the future less stressful and gain more time to the actual work instead of figuring it all out from the data shattered all over the place.
Give yourself a present with long-lasting joy this Christmas:
Curious to learn more? Book a demo.