Case Study
Customer Success Stories - Elkjøp Nordic: How the largest electronics retailer in the Nordic countries discovers new growth opportunities with Sellforte's Marketing Effectiveness Platform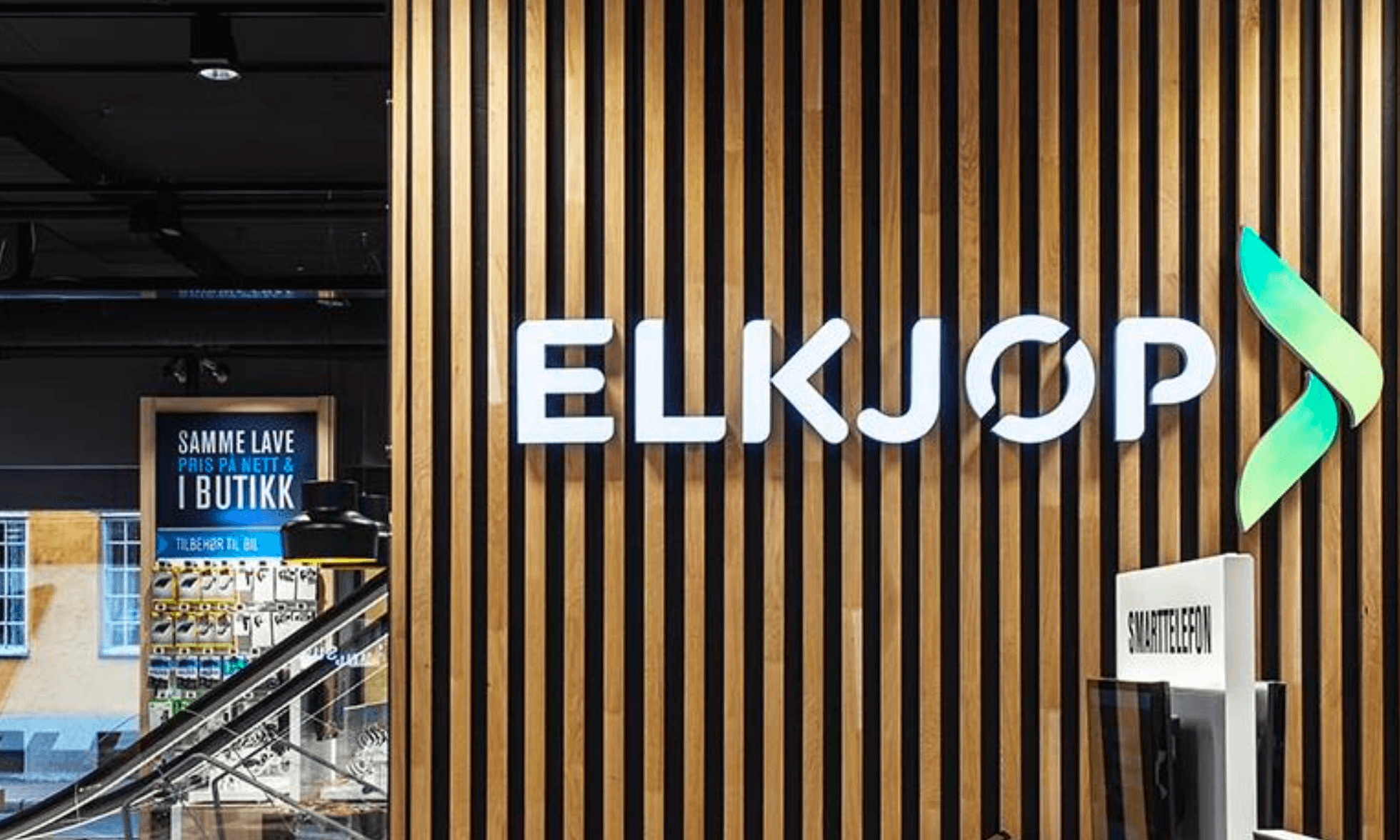 Highlights
With Sellforte's assistance, Elkjøp is better equipped to comprehend the distribution of total sales among base sales, discount-driven sales, and media-driven sales, as well as how these change over time.
Thanks to ongoing updates, Elkjøp can analyze and enhance their varied media mix in different countries throughout the year.
Utilizing Media Optimizer and regular review meetings with Sellforte, Elkjøp gains even more actionable insights for media planning and optimization.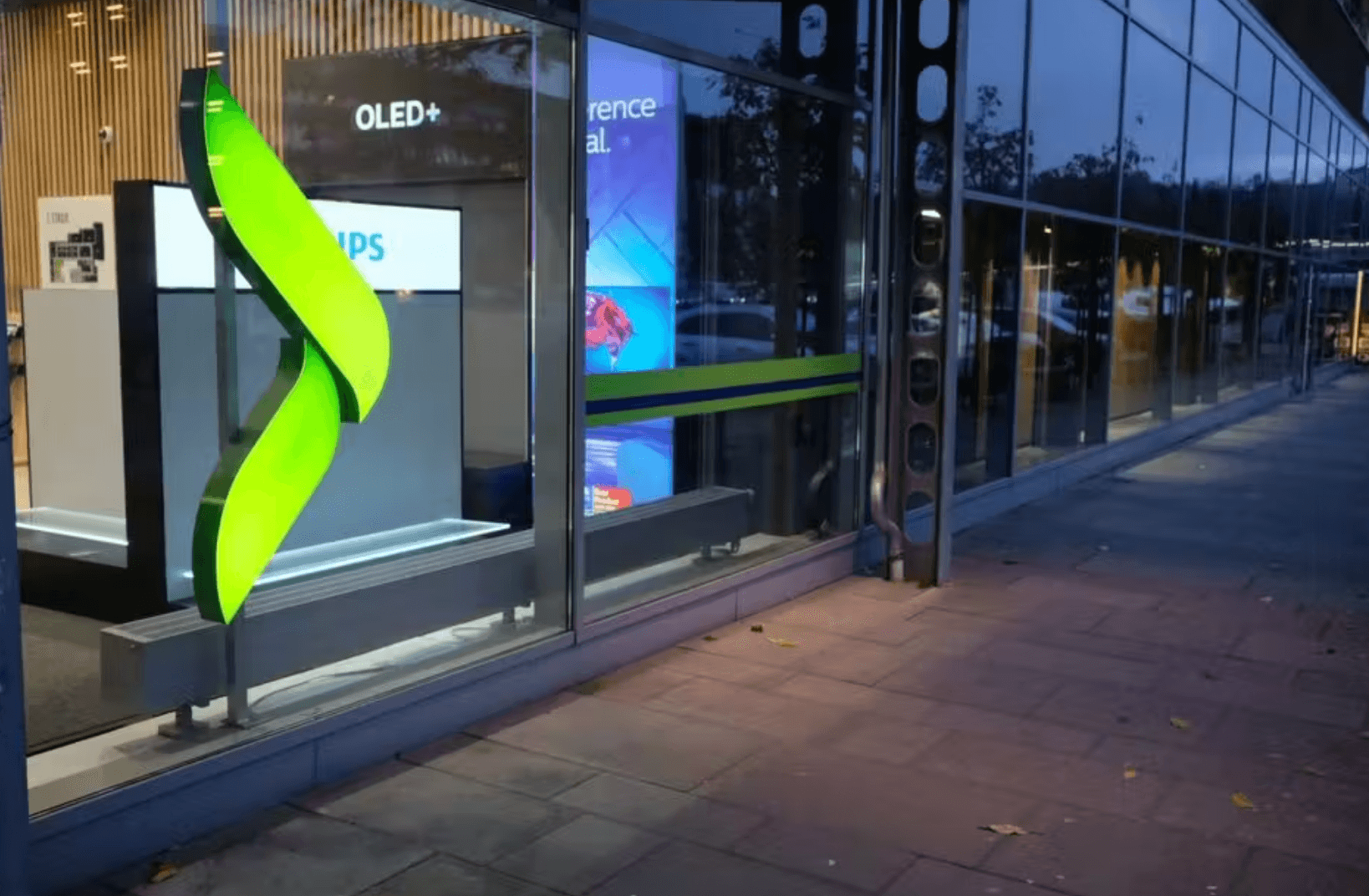 Client Objectives
Elkjøp Nordic is the largest electronics retailer in the Nordic countries, with retail operations established in Norway, Sweden, Denmark, and Finland, as well as franchise operations in Greenland, Iceland, and the Faroe Islands.
Elkjøp's revenue amounted to 49.8 BNOK in 2021.
The company operates 420 stores as of 2021.
The Group comprises approximately 11,000 employees who operate under various brand names, including Elkjøp and Elkjøp Phonehouse in Norway, Elgiganten and Elgiganten Phonehouse in Sweden, Elgiganten in Denmark, and Gigantti in Finland. In addition, there's Elko in Iceland, Elding in the Faroe Islands, and Pisiffik in Greenland.
Elkjøp is an omnichannel retailer and caters to its customers through both online and its network of over 400 stores. Elkjøp aimed to enhance the visibility of its return on investment for marketing expenditures and make informed decisions based on these insights.
Elkjøp utilizes both online and offline media channels in its marketing efforts.
The company sought to discern the performance of each channel and determine how to optimize the media mix for varying seasons across different countries.
Maintaining a steady stream of results and insights is regarded as essential in the field of electronics retail.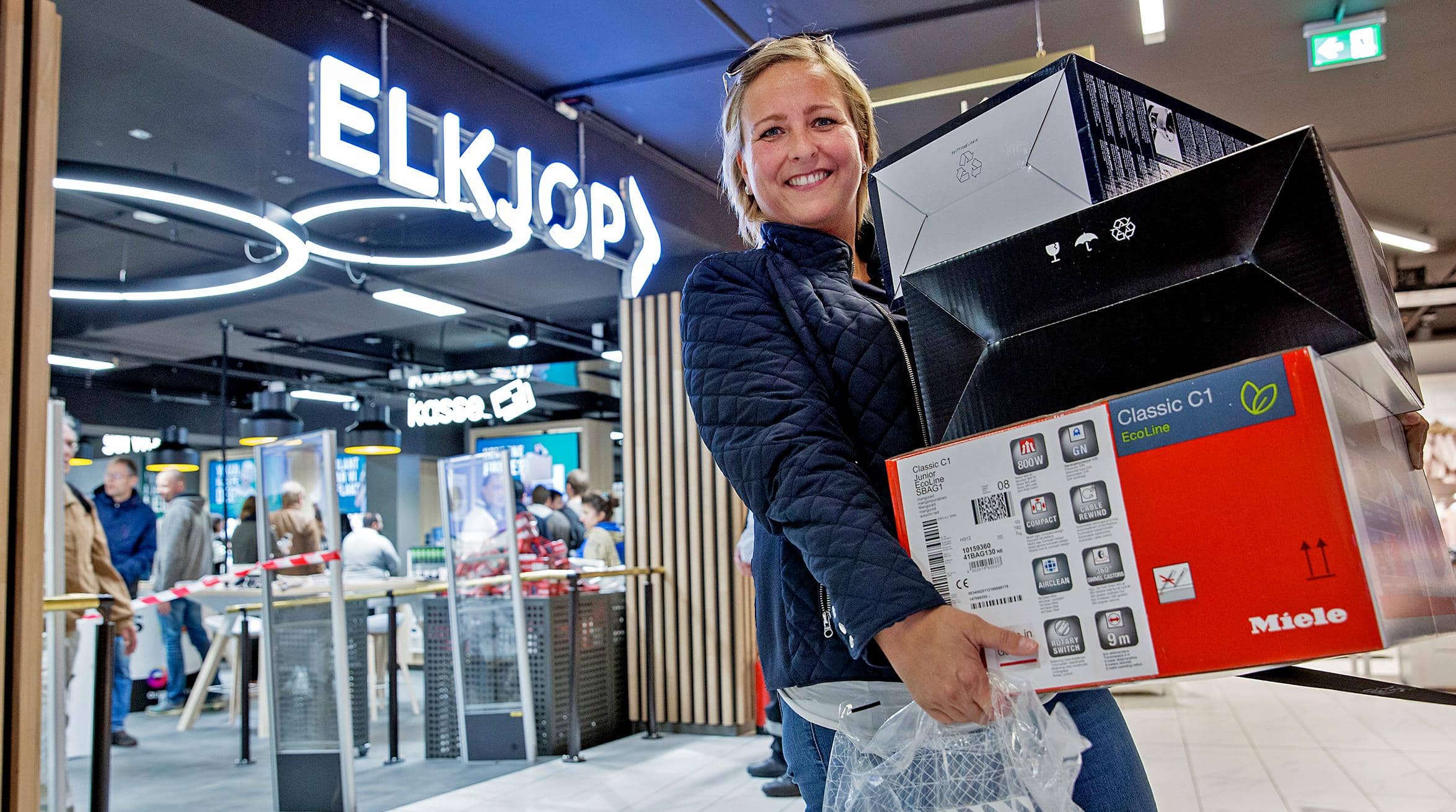 Client Objectives
Elkjøp was interested in measuring its marketing investments' ROI on regular basis to enable continuous media mix optimization. Granular and actionable results were at core since Elkjøp serves its customers both online and offline and uses variety of online and offline media channels. Moreover, as the scope consist of four different markets, separation of local and joint marketing activities was fundamental.
Measuring marketing activities' ROI on ongoing basis in four different markets
Defining offline and online media activities' effect on online and offline sales channels
Finding out the optimal media mix for local and Nordic-level joint marketing activities in each country
Deep diving into different media channels' performance
Getting ongoing media effectiveness recommendations from Sellforte
Marketing Effectiveness Outputs
Marketing effectiveness view enables users to understand big picture and drill-down for more specific insights.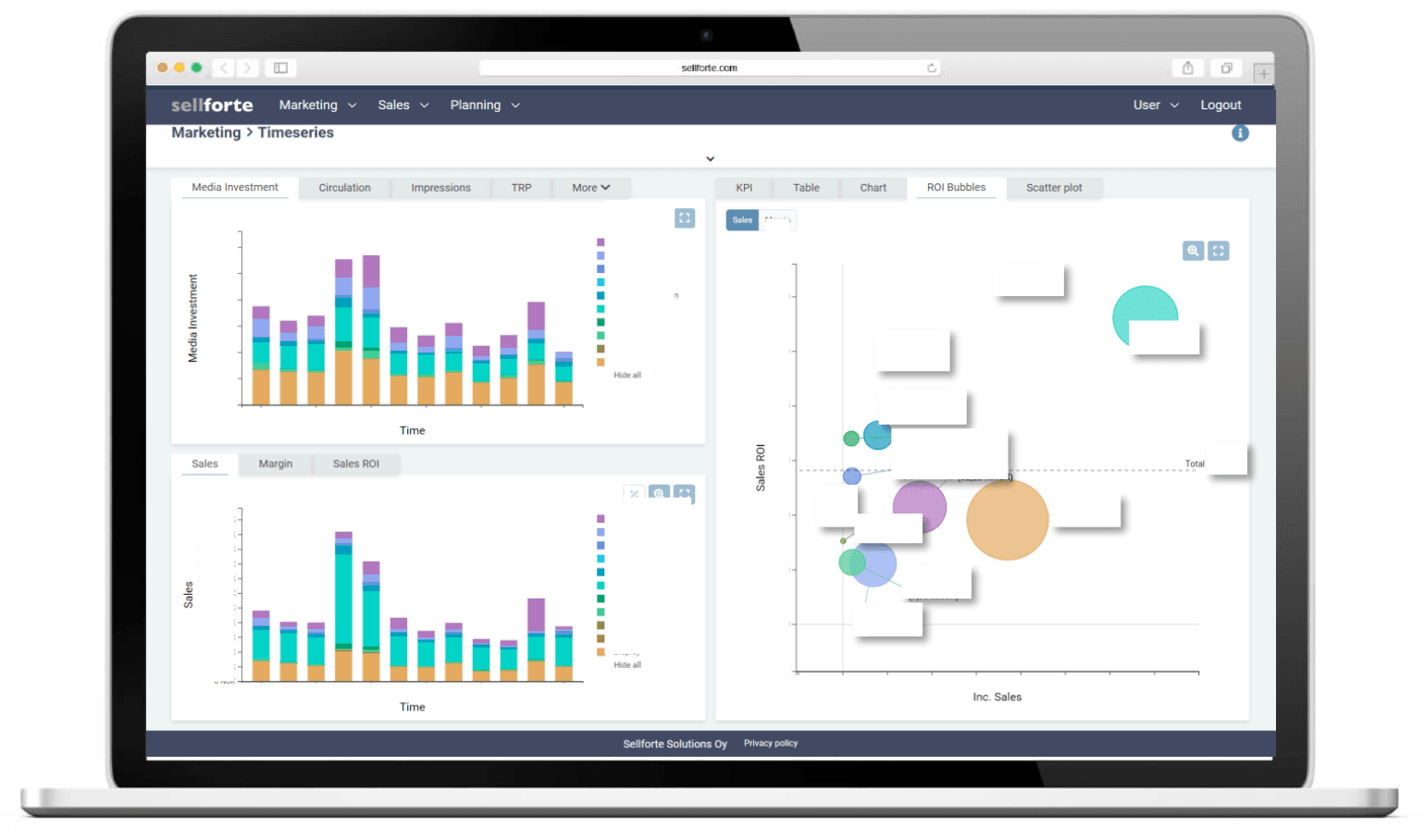 Users have the capability to compare various time periods and different media simultaneously, considering timing and media mix.
Drawing from historical results and insights at the media level, the marketing team can meticulously plan and optimize future campaigns.
Since the uplifts are categorized by sales channels and product categories, it becomes feasible to engage in more granular planning, supporting areas such as online sales, for example.
Media Optimizer Outputs
Media Optimizer enables users to optimize their media mix for specific time period and test different investments scenarios.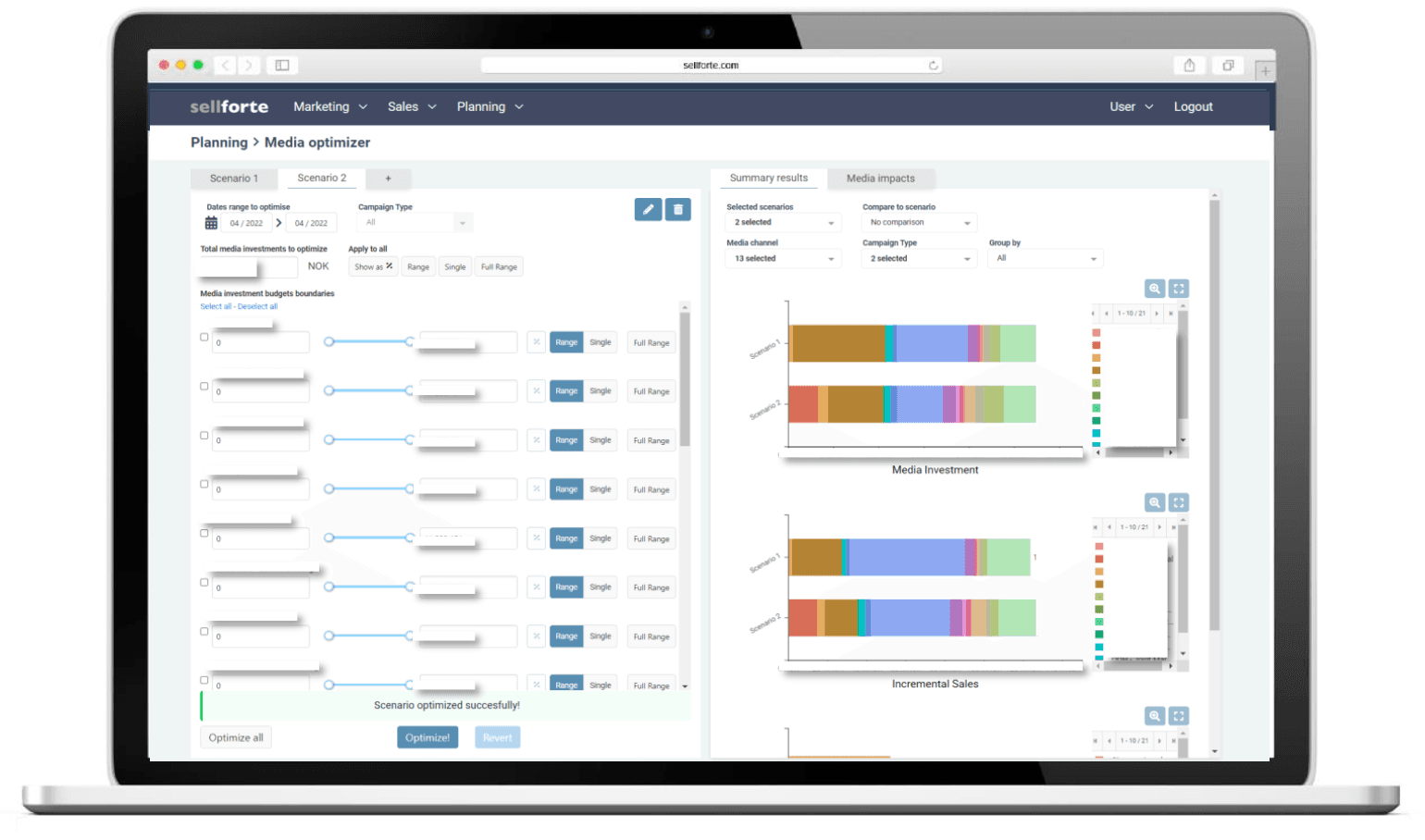 Users are able to compare different scenarios with different media mix and investment allocation.
As a result, user can implement media mix which generates incremental sales the most.
Client Testimonial